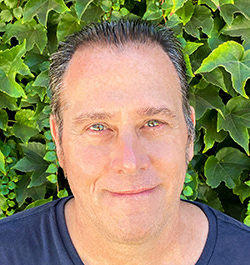 I have loved creating art since I was a child. For college I went to SUNY Purchase in upstate NY to study Drawing, Painting and Printmaking. A couple of years later I transferred to the School of the Museum of Fine Arts in Boston and then to Massachusetts College of Art, where I also studied Art History extensively. I had the wonderful opportunity to be able to take classes at both Art colleges simultaneously, and to schedule private viewings of original prints from the likes of Picasso and Edvard Munch at the Museum of Fine Arts in Boston.
In the early 90s I took Computer Graphics classes at the School of Visual Arts in NYC where I fell in love with Adobe Photoshop. I Built up a portfolio and then worked in various advertising agencies in New York - Grey Advertising, Young & Rubicam, Tarlow Advertising, Carlson & Partners and Hill, Holiday/Altschiller doing photo compositing and retouching through the 90s. I moved to San Francisco in 2000 and then to Los Angeles in 2004.
I balance Photoshop Tutoring with Photo Editing and running groups on Facebook.
Check out my
Reviews!
Interviews - Podcasts - Articles